Courses
2023
October 11th, 18th & 21st (LIMITED PLACES). Foliage growing days: on-site group sessions
December 2nd. Christmas wreath & garland making in the New Forest
December 9th. Christmas wreath & garland making in North Wales
Zoom 1:1 sessions on foliage growing
Our October 2023 foliage growing courses are now SOLD OUT. However, consultations are available on an on-going basis. See below:
Foliage growing consultations:
For a while now Zanna has been offering 90 minute Zoom consultations. These sessions are based on a questionnaire sent out prior to the session, and we will cover much of the information given in the course (see below). It often helps to send a video tour of the growing space in question. From this information specific foliage recommendations can be prepared based on site and needs. Please contact Zanna to find out more.
Here is a recent consultation testimonial:
'What Zanna doesn't know about foliage is probably not worth knowing. I was fortunate to have a one-to-one foliage consultation with Zanna, and in 90 minutes learnt more than i could imagine. Her years of experience and dedication to growing British foliage means she is a wealth of knowledge, a walking encyclopaedia of how to best cut, condition, prune and care for foliage plants. Zanna is a natural teacher and leaves you not only with a notebook of helpful information, but an inspired confidence to grow the best foliage possible." James Greig, Stem & Green
Course costs:
Foliage-growing course – £110
Wreath/garlands course – £70 / £80 / £140
90 minute Zoom session – £100
Growing foliage for floristry courses 2023:
The next courses will run in October 2023. The course is aimed at people with a few years' experience of gardening and some knowledge of flower / foliage growing.
Floristry knowledge / experience is also definitely a plus. We would strongly recommend getting some work experience in a florists' shop for anyone who is wanting to grow flowers or foliage for floristry.
Zanna is an experienced gardener, having learnt under a professional, and she has many years under her belt of learning on the job. She has also worked for ten years as an event and shop florist. She has a passion for working with interesting and unusual foliage grown in the UK, and in sharing the knowledge she has learnt along the way.
The foliage growing course runs from 9.30am to 4.30pm including a delicious lunch and morning and afternoon refreshments. The following topics will be covered:
The kinds of foliage florists want
What foliage is most versatile
What plants to grow & how to grow them
Optimum spacing for ease of harvesting
When to harvest
Pruning tips
Coppicing & pollarding
Weed control
Ground cover planting
Propagating
Pricing
Presenting foliage for sale
Turnover, production costs and markets for foliage
There will be hands-on demonstrations of pruning, propagating, harvesting, bunching & conditioning foliage. Towards the end of the day Zanna will show you some simple ideas of how to display a few pieces of lovely, feature foliage so that they can take centre stage.
Some of the course will be covered whilst walking around the site and will typically involve course attendees' questions. There will be a maximum of 7 people on each course.
The Spindle Flowers & Foliage site is just over an acre. You will be visiting a plant library of shrubs and trees. Most of the trees and shrubs were planted between 6 & 9 years ago with some recent plantings too. The site has grown organically. Biodiversity, plant & soil health remain at the centre of everything.
We will be based in our new timber-frame barn which is rustic, so please come with an open mind and some warm clothing! We will be spending much of our time outside, so it is recommended that you also bring waterproof shoes and a coat, as well as a notepad and pencil with which to write notes.
'I did this workshop last year and learnt so much. Loved the tour of all the plants and the pros and cons and methods of growing each. And the take home sheets so you don't have to remember it all at once! Thank you.' Penny, ForagingPhloem 2023
'I just wanted to say thank you so much for Saturday's foliage course. I had such a lovely morning and have learnt so much from you. It was great to meet you and see your amazing field… it was so helpful to see what you have done and how you've planted out your space. You were so generous with your knowledge and i'm very grateful for all the advice you gave and also for the plant lists, which add to my never ending shopping list!' Helen, Home Hill Flowers 2021
'I thoroughly enjoyed meeting you and learning more about the foliage aspect of farming. Such an amazing location and beautiful barn. I came away really excited about the future of growing more foliage and feel your course covered many of the questions that I had. The handouts are proving most useful albeit my shopping list is getting longer!' Marney, Chetterwood Flowers 2021
Please remember that as with any working garden, you will find some weeds and some mess! We very much look forward to welcoming you to Spindle Flowers soon.
Please contact Zanna to find out more.
I am also now taking bookings for floristry & wreath-making courses.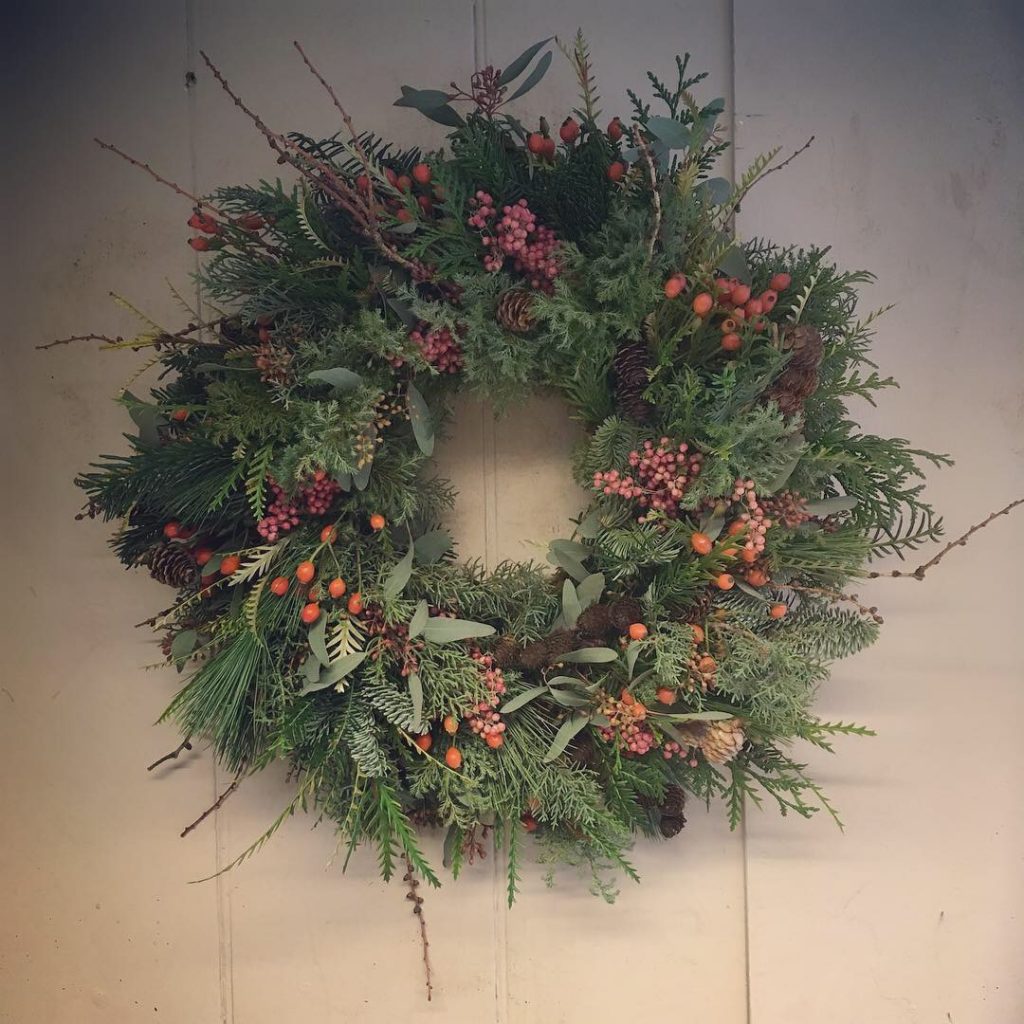 Wreath-making workshop Tiptoe Yoga in the New Forest (more info coming soon)
December 2nd
Wernog Wood wreath-making & garland-making workshop.
December 9th
Following the success of last year's Christmas workshops at Wernog Wood, we'll be doing wreath-making in the morning (£70), garland-making in the afternoon (£80). Stay for either or both! (£140 and a delicious lunch included).
On this course you'll work with completely natural, locally sourced materials to create gorgeous, scented, luscious foliage-based decorations for your home over the festive season. You'll pick up tips on how to create low-cost, eco-friendly floral designs for the table, over the fireplace, on the front door, as well as hanging above it all! Dried material, rose hips, feathers, conifer, all the tricks of the trade for making decorations that will last ages and look amazing. It's a wonderful way to prepare for Christmas.
---
Showing all 3 results