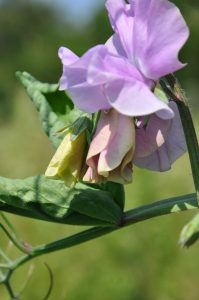 Acanthus: tall, stately thistle spikes with purple flowers. 70cm to 1m.
Achillea: multi-florets on a broad, flat flower-head. Both the pale pink native 'yarrow' as well as yellow-gold, rusty reds, and a cerise pink cultivated variety. 60cm to 90cm.
Alchemilla mollis: frothy lime-green foliage and filler. Approx. 60cm.
Allium byzantium: tall, skinny purple allium.
Ammi: looks like cow parsley but longer-lasting. Also known as "queen anne's lace" amongst other names. 60cm to 100cm.
Aquilegia: white, pink, burgundy and raspberry ripple varieties of the classic "granny's bonnet". 60cm.
Buddleia: butterfly bush – whites, purples, and bright pink with variegated foliage.
Clary sage: a stocky, annual salvia with an attractive purple-blue 'flower' and stem (the flower is actually the top leaves). 50cm.
Cornflower: both red and blue cornflowers available. Bright pom-poms of flowers on a slender stem with delicate leaves. A staple of the British summer bouquet. 50 – 80cm.
Crataegus (see Hawthorn): unusual foliage from a wide variety of ornamental hawthorn, including glaucus varieties. Up to 80cm
Crocosmia: bright red fiery flowers along an arc stem. 70cm to 1m. The variety I grow is called 'lucifer' which might give you some idea of the drama of this flower.
Daisies: classic white daisies with yellow centres. 50cm to 70cm.
Daucus: white or rose pink cowparsley-type flowers on long stems. Great for filler for bouquets. Up to 70cm.
Delphinium: classic tall blue 'bees' of gorgeous bright or pale flowers down a long stem. Up to 1.5m
Deschampsia grass: tall and delicate grasses. Fluid moving seed-head before pollination, dusty softening effects after pollination. Up to 1.5m.
Echinacea: favourite of bees, the coneflower has a large yellow centre surrounded by bright pink, daisy-like petals. 60cm to 80cm.
Eryngium: long-lasting, small grey-blue thistles on blue stems. Up to 80cm.
Foxgloves (digitalis): starting in spring and flowering well into mid-summer, these tall, stately beauties come in shades of freckled nutmeg, to pale apricot and white, to the classic bright pink woodland variety. Up to 1m.
Gaura 'the bride': small pinky-white flowers on a long, slender spike. Up to 80cm.
Geum: these bright orange bombshells are so distinctive in any arrangement. Delicate flowered, they somehow manage to be elegant too. Up to 50cm.
Helianthus: tall, bright yellow, daisy-like flowers. 70cm to 90cm.
Honeysuckle: classic hedgerow beauty, with heady scent. 50cm.
Knautia: small, bright, cherry-red pin cushion flowers on long stems. Up to 60cm.
Lupins: red/pink 'band of nobles' and the blue variety, tall and stately with lovely leaves. Up to 80cm.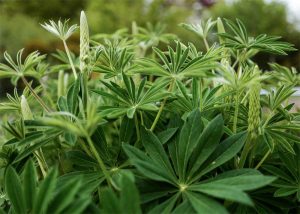 Meadowsweet: as the name suggests, this tall hedgerow beauty has the delicate scent of sweet meadow hay, and carries clusters of creamy white flowers. 70cm to 1m
Nicotiana/tobacco flower: lime green or pink or white, small ones, tall ones, skinny bells, bright trumpets. These are long-stemmed flowers that work hard for the florist. Up to 80cm.
Nigella/love-in-a-mist: a favourite of many. It has an unusual blue seed-pod flower with blue ruffs around it. 50 – 60cm.
Peonies: bright pink, and light pink, whites and corals. Bombshell beautiful. Up to 70cm.
Philadelphus: this white-flowered and sweetly-scented shrub is elegant in the vase, so fleetingly beautiful, perfect for only a few days, but absolutlely worth having at the right time for the right event. up to 1m.
Physocarpus (in flower): tall burgundy or lime green foliage with straight stems and clusters of pink flowers at the tips.
Poppies (icelandic): this particular poppy is grown especially as a cut flower because it lasts up to 5 days in the vase. A beautiful, papery flower on a slender stem. Colours vary and range from bright orange, to cream, to pink. 60cm.
Roses: scented English garden roses, both single-stemmed and floribunda.
Rowan: berried stems of this elegant foliage. Up to 1.5m
Rue: bright yellow flowers on stems of glaucous (pinky-grey) leaves. Up to 40cm.
Salvia/clary sage: Like a mint, but with bright purple top leaves. Pretty, strong stemmed, up to 60cm.
Scabiosa: red, black or pink pin cushions on lovely long stems. Up to 60cm
Sedum: fleshy, round-leaved summer foliage (juvenile). Up to 40cm.
Senecio 'dusty miller': feathered silver foliage. Up to 50cm.
Sorell: tall rust-coloured seed heads cut before pollination. Stem length 1m or more.
Spirea: the arching stems of this shrub, laden with tiny white flowers, is fabulous to use. Up to 1m.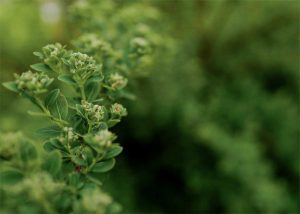 Sweetpeas: show-bench quality, both poly-tunnel and out-door grown. Available April to July. 40cm.
Sweet williams: bright, cheerful colours, as well as a lovely white one, and a black one! sweetly scented, long lasting flowers. Up to 70cm.
Verbascum: tall spires, like hollyhocks with smaller flowers all down the stems, white with pink centres.
Verbena bonariensis: stately purple flower clusters on an elegant, tall stem. 60cm to 1m.
Veronica: lilac colour, delicate spires and fine foliage. Up to 60cm.