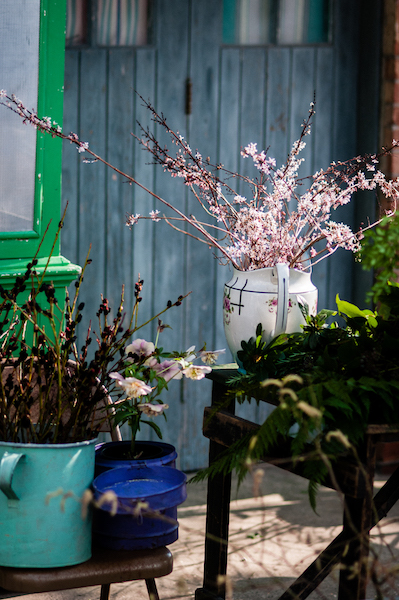 Abelia: this winter shrub has pink florets of leaves which look like flowers, on slender woody stems.
Abeliophyllum/white forsythia: long, slender branches of honey-scented white forsythia.
Alder: green, yellow and red varieties with catkins which, when maturing, look like brocade hanging from an ancient fabric. They are lovely catkin-covered branches. Can be up to 2m.
Beech, hazel, rowan, blackthorn (in blossom) field maple, hawthorn and alder: from local woodland plantations. Sold as individual bunches x 10 or mixed boxes of x 40 or x 80. Stem length approx. 80cm. Available late Spring with prior notice.
Berberis: this yellow variety (b. koreana) holds up beautifully out of water for quite a while, and is sweetly scented (the bees love it). Its stems, however, are not so sweetly covered in sharp prickles. Up to 1m .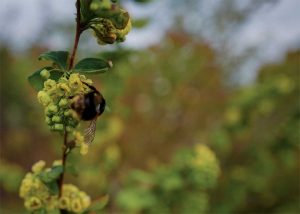 Blossom: apple, wild pear, and wild and ornamental cherry branches in bud/flower from April onwards. Stem length up to 2m.
Broom: pale or bright yellow, scented flowers all the way down long, strong stems. 70cm.
Cornus/dogwood in flower: small white star flower clusters on slender red, yellow or green branches. Up to 2m.
Corylopsis: a relation of the hazel, with lovely lemon-coloured dangly catkins and pretty foliage. Up to 50cm.
Foxgloves: tall bright or pale pink, cream, speckled, nutmeg brown, or white flower spikes of this woodland classic. Up to 1.5m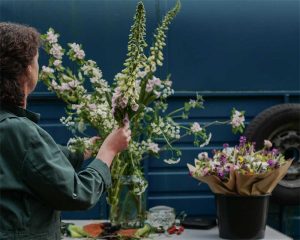 Hazel catkins: hedgerow hazel stems with catkins. 70cm.
Hellebores: large, delicate, often freckled flowers in subtle shades of red, pink, green, cream. Up to 60cm.
Lilac: classic, loved, scented, amazing. Various whites and purples. Up to 70cm.
Pussy willows: furry buds on red and yellow willow. We also have black pussy willow – a special new arrival with coal black buds. Up to 1m. Available mid Feb.
Pearl bush (exochorda macrantha): is covered in stunning white blossom and lasts well in the vase.
Physocarpus (in flower): this foliage looks a bit like a currant leaf. The stems are straight or delicately arching, and in Spring they are covered in delicate white pom pom flowers. Varieties are lime-green or plum. Up to 2m.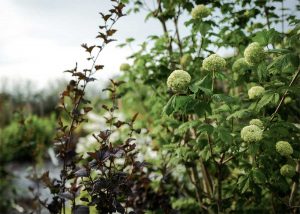 Skimmia: glossy leaves, strong stems, and chunky clusters of small white or red buds. Up to 40cm.
Sweet rocket/hesperis: deliciously scented white flowers on an upright stem. 60cm to 80cm.
Tulips: dark reds, dusky pinks, stripey greens and whites. Up to 60cm.
Viburnum opulus (snowball & guelder rose): flowering shrubs with white or rose-tinted flowers. Up to 1m.
Viburnum plicatum: ditto.
Whitebeam: this grey-green, large-leaved foliage does something amazing to arrangements, turning them from 'pretty' to 'classic'. Up to 1m.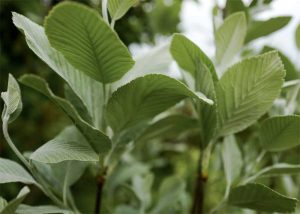 Wild garlic/ramsons: white flower clusters with large almond-shaped leaves. Strongly garlic scented. 30cm.
Winter honeysuckle: this white honeysuckle is strongly scented and holds up well in the vase. Up to 70cm.
Witch hazel/hammamelis: woody stems and bright yellow or rusty red tufts of flowers – unusual and strongly scented. Up to 70cm.